Contemporary Kitchen Guide
a guide to
Contemporary Kitchens for Modern Homes
Domestic kitchen design has come a long way over the years. What was once often a small and purely functional room, tucked away at the back of the house, has become the central hub of modern homes as people spend more time and do more things in their kitchens. Contemporary kitchens are places to enjoy spending time in. And thanks to the huge range of options available, they allow home owners to really express their personalities - creating fabulous spaces that are both highly functional and incredibly stylish.
What is a Contemporary Kitchen?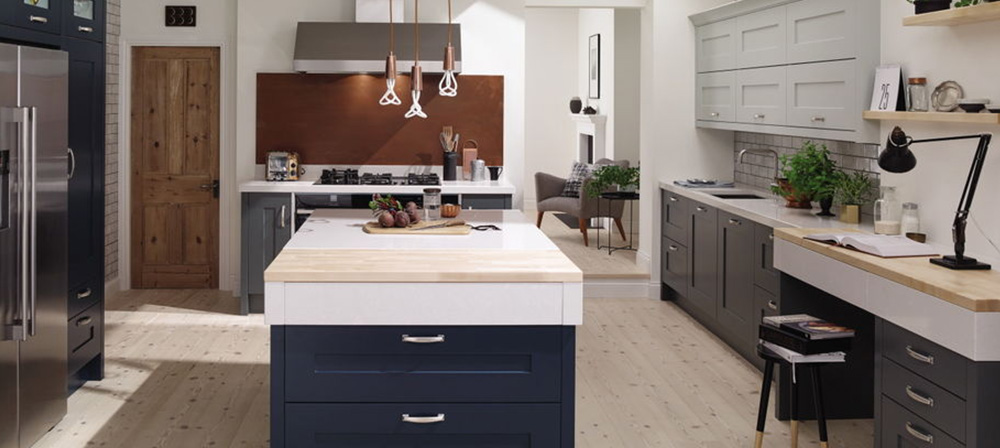 Contemporary kitchens are designed around modern life and the way the space will be used. From cooking and dining to entertaining and relaxing, this usually won't be the same for every household. So modern design offers a flexible range of features that allow the kitchen to be tailored specifically to the needs of its owners.

In terms of looks, contemporary kitchens showcase modern styling, finishes, materials and aesthetics. They typically include clean lines, smooth surfaces and subtle accents.
Elements of Contemporary Kitchen Design
What differentiates a contemporary kitchen from something more traditional is primarily the style. Some modern kitchens are sleek and almost futuristic looking, whilst others put a new twist on established classics. There are a number of key options and features to keep in mind when designing or planning a contemporary kitchen.
Clean & Uncluttered
Contemporary kitchens are usually designed using straight lines for a sleek look. Cabinets, doors and drawers are usually flat fronted in light, natural and neutral tones. They include plenty of storage so that surfaces can be kept as empty and uncluttered as possible.

Horizontal Lines
Often in contemporary kitchens, you will find horizontal lines used
throughout the design. The direction of the grain where wood is used,
the alignment of cabinets and handles, the layout of tiling and splash backs - all are used in a way that places an emphasis on the
horizontal.
Cohesive & Consistent
Contemporary kitchens may be designed to fulfil a number of roles, and they do so using a style that is consistent throughout the space. Whilst zones might be individually defined, the overall style remains cohesive
with accessories, materials and colour schemes working in harmony.

Natural Light
Contemporary kitchens often have a light, airy feel that comes from allowing plenty of natural light into the room. From large windows and
skylights to sliding doors that allow the kitchen to connect to the space outdoors, an abundance of natural light is a signature of
modern design.

Appliances
Sleek, stylish and modern appliances are usually found in contemporary
kitchens. They will usually match other design cues such as using
minimal decoration and angular lines. Modern appliances are usually
incredibly efficient and include a range of advanced features to make
kitchen tasks faster, easier and more pleasurable.
Is a Contemporary Kitchen Right For Me?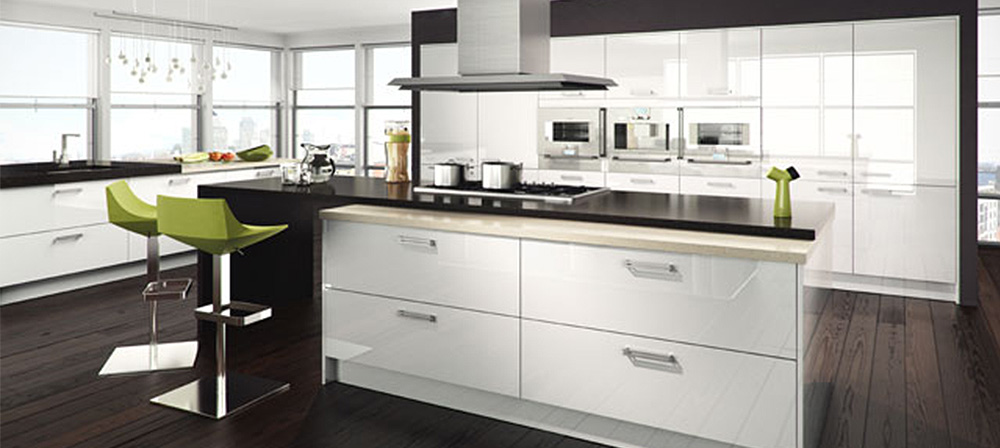 A contemporary kitchen is ideal for anyone who wants a great looking, intelligently designed and high quality kitchen space. This style of kitchen will of course look superb in a modern property, however thoughtfully designed contemporary kitchens also look equally great in period properties, providing an interesting contrast between the external architecture and the interior of the building.

Modern kitchens are typically based around a quiet colour palette and use a range of materials including wood; features which make them relaxing and positive places to spend time in.

When it comes to storage and practicality, contemporary kitchens offer a range of clever options designed for modern life. With plenty of storage, and everything where you need it to be, your kitchen is easier to keep clean and uncluttered, further enhancing the appeal of the room.
Materials & Finishes in Contemporary Kitchens
A shaker style kitchen can look fabulous in a modern setting; contemporary colour schemes, appliances and accessories bring the style wonderfully up to date.
Gloss
A gloss or lacquered finish is commonly associated with modern kitchen
design. It provides a sleek look and allows light to bounce around
the room, giving a feeling of space.

Matt
Offering a sophisticated look, matt kitchens works incredibly well as part
of a contemporary interior design scheme. Whether in white or one of the
many colour options available, a matt finish is an elegant and stylish choice.
Wood
Wood is a popular choice in contemporary kitchen design. It brings a feeling of warmth to the room and adds interest thanks to the natural beauty in the grain. A range of wood finishes are available, from light to dark, to complement and contrast with other materials and finishes.

Glass
Featuring in many modern kitchens, glass is often used as a spashback or
worktop material. It has superb heat and scratch resistant properties, helps light to flow and is easy to keep clean and hygienic.
Concrete
Finding its way into contemporary kitchen design more and more in recent
years, concrete is an honest and resilient material that can be used in a number of different ways, from walls and flooring to worktops and accessories.
Advice When Buying a Kitchen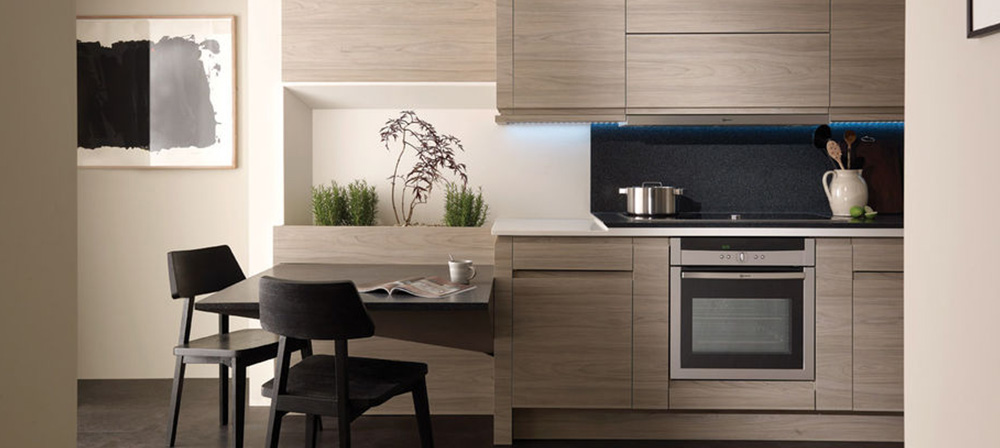 Contemporary kitchens are perhaps the most popular style on the market today and are produced by a range of quality manufacturers such as Kitchen Stori, Burbidge, Second Nature, Multiwood and BA.

Before commencing with any new kitchen project, it's advisable to speak to a professional designer. They will be able to provide invaluable advice based on how you will use your kitchen, helping you to really get the most out of your space.

The construction methods and materials used in producing a kitchen can vary, so it's always worth speaking to your designer about the options available to ensure you get something that will last. High quality doesn't always mean the most expensive so it's important to get a good understanding about what exactly you're buying in order to judge whether you're getting a good deal.

A professional designer will be able help you to choose the colours, materials and surfaces that best meed your needs and budget so that your kitchen will look great for years to come. They may also suggest some options you hadn't previously considered that would look fantastic in your kitchen.
Choose Your Perfect Contemporary Kitchen
Contemporary kitchens are a great choice for anybody who wants a stylish, modern and functional space. If you like clean, uncluttered design and intelligent storage then this could be the perfect style for you.
Take a look at our ranges and see if you can find an option that you would like in your home or get in touch with our friendly, experienced team for advice.