Shaker Kitchen Guide
A Guide to
shaker KITCHENS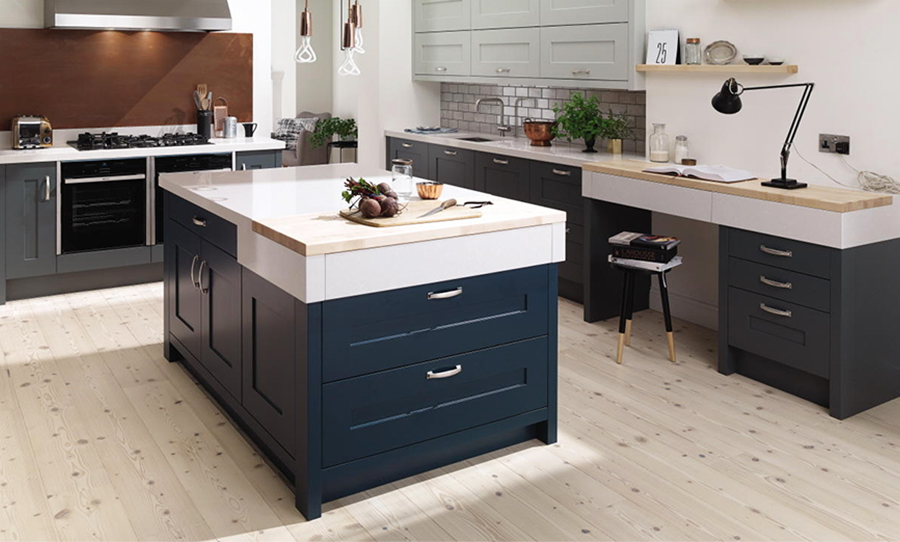 Shaker kitchens offer a uniquely timeless style and are a superb choice for any home. A shaker style kitchen makes the perfect place to cook, dine and relax in style.
What are shaker Kitchens?
The original Shakers were a religious sect originating in England in the
18th century and largely migrating to the USA in the 19th century. They set up their own communities and held clean living, honest and frugal values.

One of the things the Shakers are most famous for is their beautifully
crafted wooden furniture, which has become popular all around the
world.

Shakers created all of their furniture by hand, and as word of its fantastic quality spread, they began to sell their goods to the wider population. The style is simple yet beautiful and has certainly stood the test of time. Original Shaker pieces are in high demand and often
sell for many tens of thousands of pounds.

Modern day Shaker style kitchens are created following the principles of shaker design. This means they are simple, unfussy and high quality. However it's not all about form over function with this type of
kitchen. They offer a simple yet distinctive elegance that is instantly recognisable, with classic proportions and often an inset framed panel for doors and drawer fronts.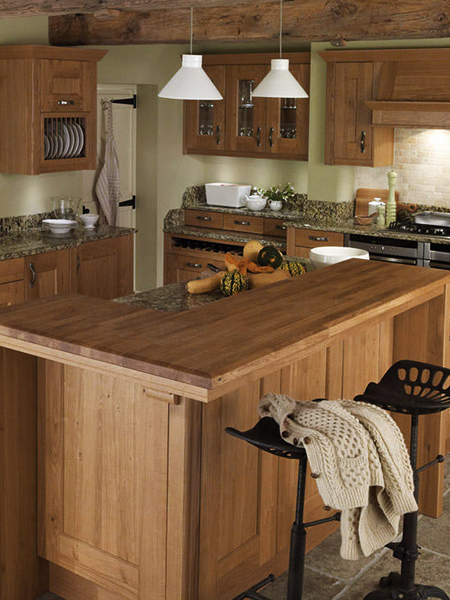 Wooden Shaker kitchens are perhaps the most traditional interpretation of the style. The original Shakers hand crafted all of their furniture from wood, including their kitchens, and so a beautiful wooden finish evokes the high quality detailing and craftsmanship of the past.

That is not to say that wooden shaker kitchens don't also look stunning in a more contemporary setting. Their beautiful simplicity means they work with practically any scheme. Modern design techniques such as combining materials and colours together in a space brings the look firmly into the 21st century.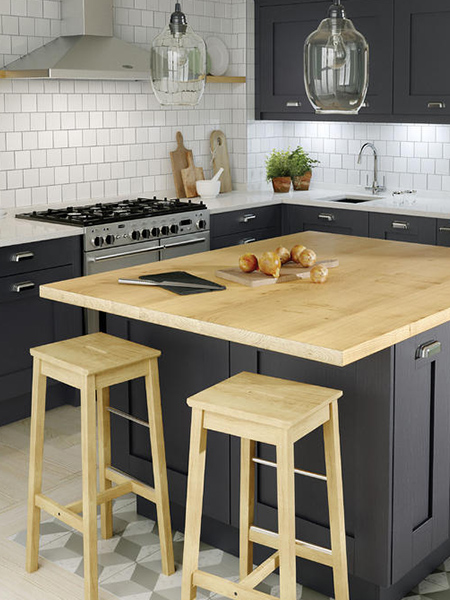 Painted Shaker style kitchens combine the classic lines of the style with a high quality painted finish. They are perfect for people who love the style or concept of a Shaker kitchen but want an option other than a natural wood finish.

Adding colour is a great way to bring the look up to date; from elegant
lights and neutrals to deeper and richer tones.

There are no concrete rules to stick to when designing a Shaker kitchen to include colour. Some people like to use a combination of natural wood and painted wood finishes in their kitchen which can look stunning. Another option is to combine different shades of colour, such as predominantly light units with a contrasting darker island, which adds a slightly more contemporary feel to the room.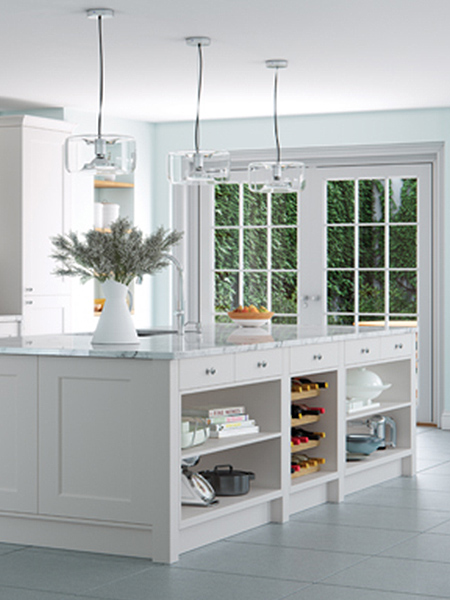 With a truly timeless quality, its no surprise that the Shaker look has
found its way into contemporary kitchen design. In today's world, the
range of options for those wanting a Shaker kitchen is the best there
has ever been.

Modern colours, from cool greys to rich blues and reds are often used to give the style a modern twist and look beautiful in a two tone scheme. Modern Shaker kitchens offer all the modern kitchen features
you'd expect such as intelligent integrated storage, sleek appliances, integrated lighting and a high quality finish.
Would a Shaker Kitchen Look Good in My Home?
If you are wondering whether a shaker kitchen would work in your home, the answer is almost certainly 'yes'. The honest, unfussy styling of shaker kitchens means that they look great in practically any home.

Shaker kitchens look beautiful in period properties but also work equally as well in modern settings and the simple, classic proportions offered by this type of kitchen means they will never go out of fashion.


With their clean lines, shaker kitchens are highly versatile and offer a
high level of personalisation. From the choice of colour and the type
of handles used to the way in which they complement other elements of the kitchen such as worktops and splashbacks, the options to design a beautiful shaker style kitchen are almost endless.
Are Shaker Kitchens Durable?
Like all their furniture, the Shakers built their kitchens to last. Modern
interpretations of the style typically use solid wood in their construction and will certainly hold up extremely well to every day use.

Painted options provide an extra level of durability to doors and drawers, and with a little care will look fantastic for many years.
For More About shaker Kitchens
To browse shaker kitchens from leading manufacturers, take a look at our range.

If you have any questions about Shaker kitchens, or would like to discuss any aspect of kitchen planning and design, call our team on 01242 523 879 or use our online contact form.

Take a look at our Shaker kitchen inspiration page for more design ideas.