Design Inspiration: High Gloss Kitchens
Design Inspiration

HIGH GLOSS KITCHENS
For a sleek modern look, high gloss kitchens are hard to beat and look superb in almost any setting.
Take a look at some of the most popular types of gloss finish kitchens:
White High Gloss Kitchens
A design classic, white is perhaps the most popular choice for high gloss kitchens. Offering timeless good looks, this style is easy to integrate into any home.
White gloss reflects light from the windows in this kitchen, which uses wood flooring and designer accessories to add personality.
In this sleek minimal kitchen white gloss cabinets contrast with the dark worktop and concrete style floor for an industrial inspired look.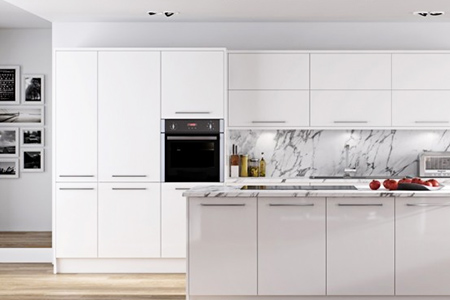 White gloss works superbly with almost any other colour or material, like the marble worktop and splashback used in this kitchen for an extra touch of luxury.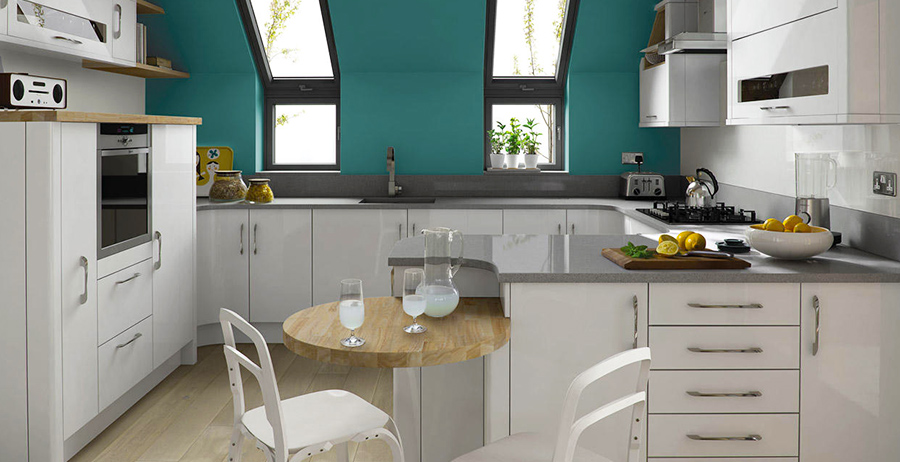 A white gloss kitchen is the perfect canvas to add vibrant splashes of colour to, like the teal walls in this kitchen.
Handleless High Gloss Kitchens
Handleless kitchens look superb in high gloss. Taking the smooth and streamlined aesthetic to another level, from minimal white to contemporary neutral shades there is something to suit any home.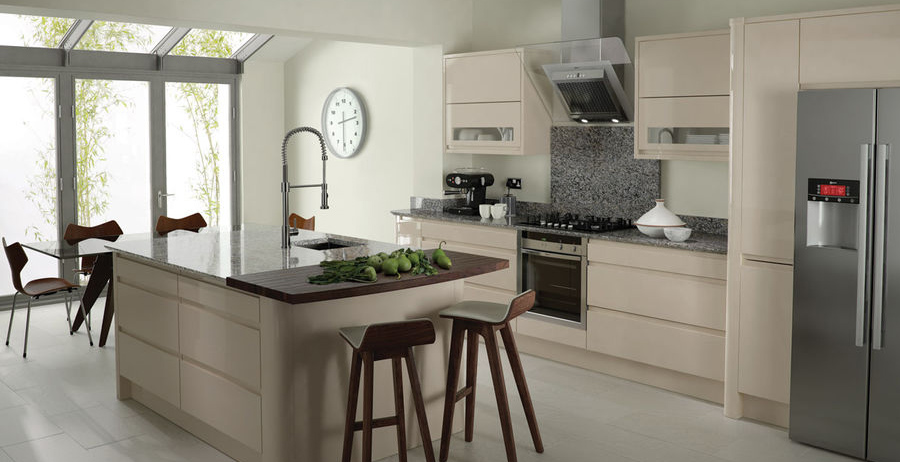 The gloss finish of the sleek handleless units and granite worktop maximise the natural light in this kitchen which includes multiple seating areas for use throughout the day.
This Scandinavian inspired kitchen diner includes a peninsula to define the different areas and adds warmth with a wooden floor and worktop.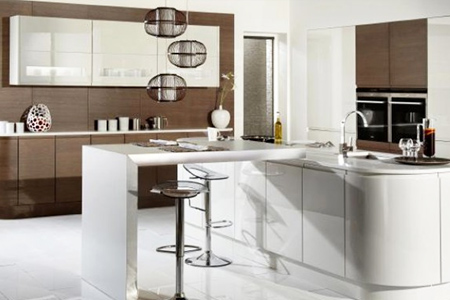 This modern handleless kitchen mixes high gloss with wood finishes and includes a breakfast bar coming off the island for an interesting, multi-dimensional look.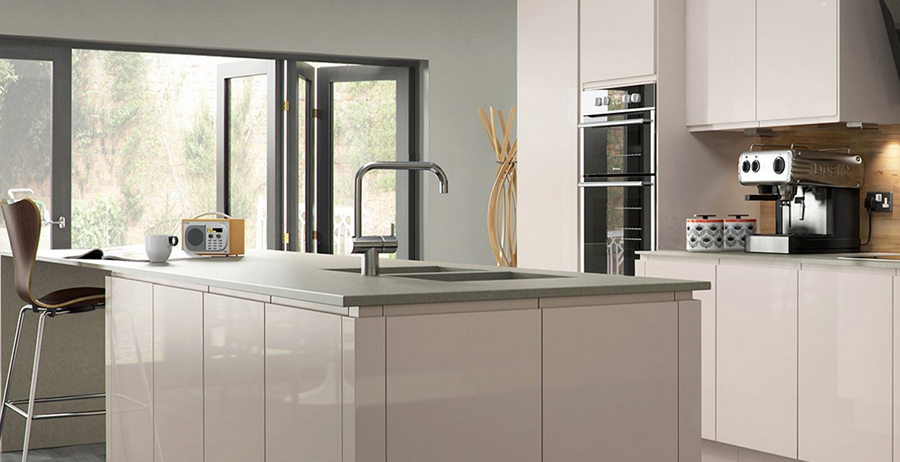 The gloss finish in this kitchen helps to make the most of the natural light coming in from the bi-fold doors, whilst the colour of the units and wood splashback add personality.
Grey High Gloss Kitchens
Grey tones have become incredibly popular for interior design schemes over the last few years. From cool airy greys to warmer earthy shades, grey offers a diverse range of options for a modern neutral style.
This cool grey kitchen looks great combined with the warmer colour used on the feature wall, with the choice of floor tile adding an extra touch of personality.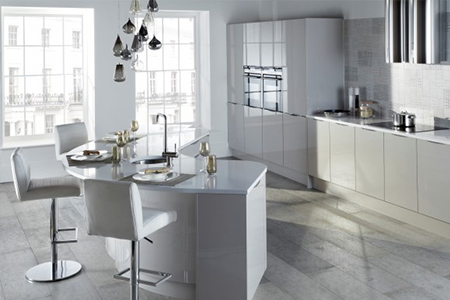 This sleek grey kitchen includes a curved seating area for friends and family to gather. It combines different textures through the choice of flooring and wall tiles to add depth and interest.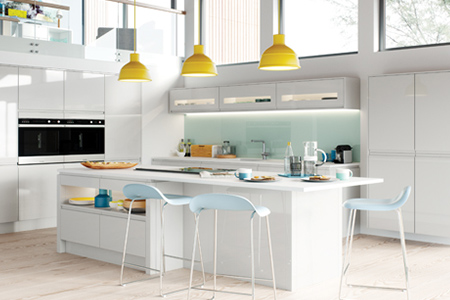 The fabulous windows flood light into this modern kitchen, which combines on-trend pale grey with pops of colour from the stools, light fittings and splashback for a fun look.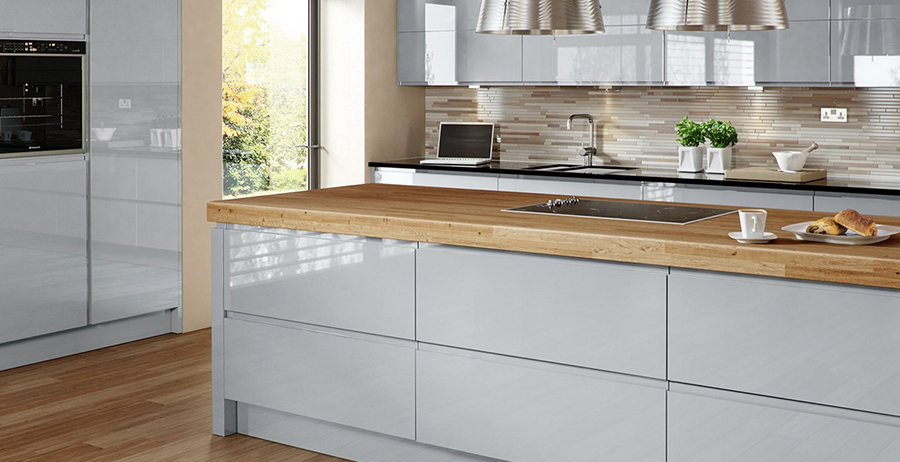 The chunky wooden worktop and flooring, earthy mosaic tiles and wall colour combine beautifully in this blue-grey kitchen, using gloss
surfaces to reflect the light entering through the door.
Neutral High Gloss Kitchens
As well as grey, other neutral shades in creams, browns and off whites look great in a high gloss kitchen if you're looking for something a little less stark than pure white.
The off white gloss finish in this kitchens keeps things light and airy and looks superb against the wood tones, setting off the beautiful
mid-century design features to perfection.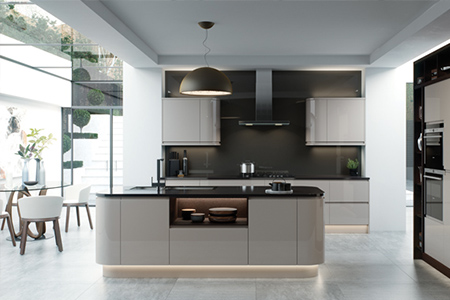 The contrast between light and dark shades adds interest to this kitchen, in which the high gloss surfaces maximise the light coming in from the fully glazed dining area.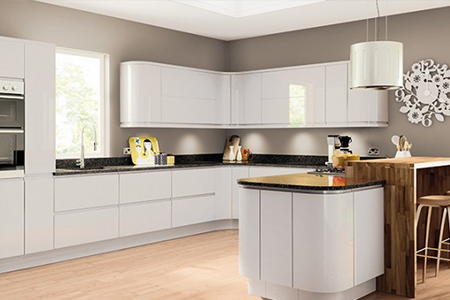 This clean and sleek design combines different shades of neutral grey and uses curves to add an organic touch, echoed by the use of wood for the breakfast bar and flooring.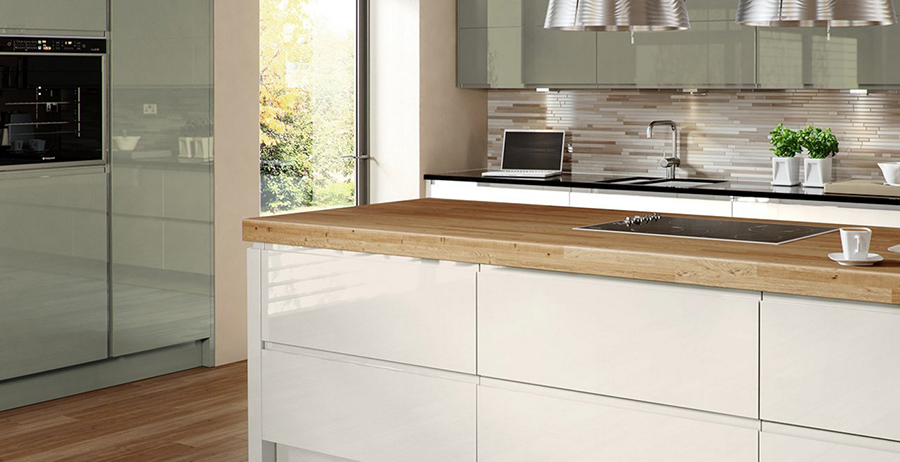 This beautiful kitchen combines different unit colours to great effect. It uses a chunky wooden worktop for the island with a sleeker top for the surrounding units to add interest.